Vase Model from EP Curve
Tutorial posted about 3 years ago
this Tutorial is to show how to create a Vase model from an EP curve. then how to turn NURBS to Polygons.
Step 1
Panels/ Orthographic/ Front.
Click on Curves tab.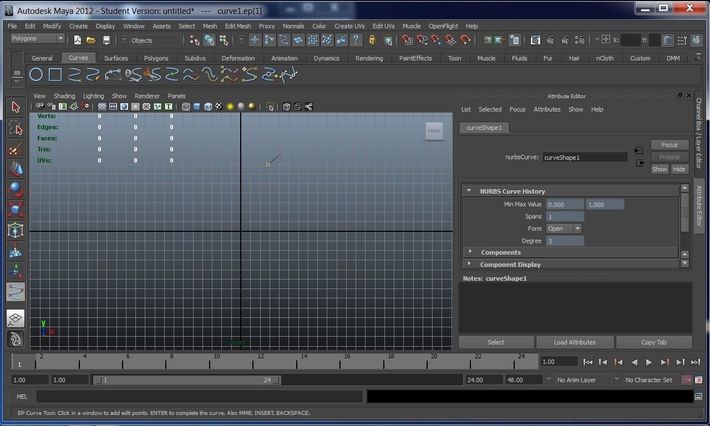 Step 2
Begin to draw your Vase using a Curve.
Step 3
Step 4
Now you closed the Curve, by clicking "Enter".
Step 5
Select Control Vertex to adjust the shape as you wish.
Step 6
Moving the Curve points as shown.
Step 7
Step 8
Step 9
Step 10
Step 11
Step 12
Step 13
Step 14
Step 15
Open up the Surfaces Tab.
Step 16
Surfaces/ Revolve, to complete your Vase model.
Step 17
Press "5" to get the shade mode.
Step 18
Move the model up to get rid of the Curve.
Step 19
Delete the EP Curve.
Step 20
Step 21
Select the "Yellow" vertices together as shown.
Step 22
Move them down.
Step 23
N.B:
if you wanna convert NURBS to Polygons to have more control over the model.. here will be the steps.
Step 24
Step 25
Step 26
Insert Edge Loop.
Scale to the inside to give it a cool looking.
Select the Highlighted edge.
and 5. Scale to shape the top of the vase.
Step 27
Select the Faces and delete.
Select the faces inside the "RED" box and delete.
Extrude the selected edges.
Step 28
Extrude 3 times to adjust the Top as you like it to be.
Then Smooth 2 times.
Step 29
Make it Shiny and Cool.
Step 30
Congratulations =D ... good job
Step 31
Step 32
WOW!
Comments