PSRC Human Character VR / AR / low-poly 3d model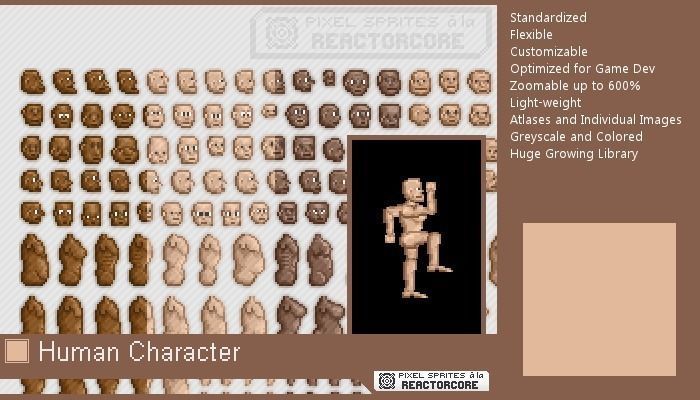 PSRC Human Character Low-poly 3D model
PSRC - Pixel Sprites ala Reactorcore Human Character
Huge selection of varied body parts (fat, skinny, female/male, fit, average, built) to construct a complete human character in 11 realistic skintones from pale caucasians, to dark africans and everything in between.
The zip includes:
*Large collection of 2D objects both as individual images and optimized atlases. Every object comes with in a greyscale and color version. The format is .PNG with transparency. The regular size for the atlases is 256x256. All sprites follow a standard of 1 meter = 40 pixels, so everything is compatible with one another.
*The images are designed for direct game development use.
*Also includes an importable Unity3D package with all settings ready for each image.
Here are some benefits that were intentionally designed into these packs:
Universal Standard (40px = 1meter) All images are compatible with one another. Unified, realistic, consistent and crispy style. Highly customizable and easy to edit. Designed specifically with 2D sidescrolling action games in mind. Very flexible, very modular. Each image can be repurposed for many situations. Extremely lightweight. Sprites are small in file size. Zoomable up to 600%. Sprites can be scaled up 6 times and still look pleasing. Includes greyscale template version, as well as colored versions for instant use. Both versions come in formats of individual images and optimized ^2 atlas sheets. These sprites are being mass produced, meaning the large library keeps growing. Existing packs may recieve expansions as free updates. These are the 2D equivalent of 3D model templates Unity3D asset package included for instant use Can be used for commercial purposes
For support, contant me by email: reactorcoregames@gmail.com
This product has no reviews yet